A two-week business-trip to Stamford, Connecticut in January – sounds delightful, doesn't it? I mean, an almost wholly-sponsored travel opportunity to another country? Yes, please! I was obviously thrilled at this wonderful start to 2017, and while I read and researched quite a bit on where to go, what to wear, and how to commute, I was not mentally prepared for the temperamental weather.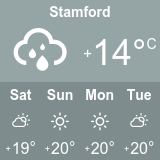 In my two weeks at Stamford and one week at New York, I encountered two snowstorms, unrelenting rain, and weather that averaged around 2 degree Celsius. There wasn't much I could do (also, I was traveling alone. I am not cut out for solo travel), so I fell back on the safest option to explore – food. Mornings involved alternating between the breakfast-buffet at the hotel and a hot chocolate plus croissant at the neighbourhood Starbucks; the office took care of lunch – so I was left to my own devices for dinner.
Cafe Oo La La
While I relied on Yelp for dinner (cheese pizza, crab Rangoon, chicken satay) on my first two nights at Stamford, I finally decided to brave the cold and forage on night three. Enter Cafe Oo La La, which was a mere seven-minute walk from my hotel (I stayed at the Holiday Inn Express on Summer Street, while in Stamford), and came well-recommended. I had a light dinner post a financially crippling shopping spree at the Ridgeway Shopping Centre – their signature quiche with French ham and caramelized onions, and a mug of hot chocolate, all for $11.
Value: $$$$$
Teff
The next night, the wonderful ladies in my team and I made our way to Teff for dinner. The family-run bistro serving Eritrean and Ethiopian cuisine, is a fifteen-minute drive from my hotel, and has a wonderful and friendly atmosphere – our hostess was a delight, and the food was sinfully delicious. We had a glass of red wine each, after which we eat dug into our respective orders – mine was the Dorho Tibs, which according to the menu, is cubed chicken breast, marinated and sautéed with berbere, clarified spice butter, red onions, garlic, jalapeños, tomatoes, and traditional herbs. This comes with fresh injera, which is a gluten-free, thin, sourdough, crepe-like bread with a spongy texture. We also get to choose two vegan entrees with the Tibs, so I opted for the Timtumo (split lentils slow-simmered in a berbere sauce) and the Shiro (fava beans, chickpeas, and split peas dry-pureed, then slow-cooked with red onions, garlic, and berbere). Everything to the last mouthful of the Dorho Tibs scooped up by the injera was phenomenal!
Value: $$$$$
Tigin Irish Pub
On Friday, I decided to venture further into the heart of Stamford, and made my way to Bedford Street. This was a such a delightful area, with remnants of Christmas lighting, a fast-paced crowd, and of course, the seemingly never-ending winter breeze.
Once I got here, I did not know where to head, so I checked Google for recommended eateries on Bedford Street. And that's how I discovered what would be my favourite place in Stamford – Tigin Irish Pub.
Ah, Tigin! As I stepped in, I fell in love with the place almost immediately. It was everything I look for in a pub, and more. The dim yet warm lighting, the quaint, rustic-y minimalist interiors, the quintessential Irish pub-posters, Jeffery the barman (such a nice man. In case you're reading this, Jeffery, thank you!), the wonderful music, and of course, Guinness!
Of course, I revisited Tigin a couple of times during the course of my stay at Stamford. I must admit, I did get pretty tipsy after one visit, but the walk back to my room in the cold was enough to induce sobriety. Also, my last drink in the United States was at Tigin, albeit the one at JFK Airport.
Value: $$$$$
Enzo's Italian Fine Foods
Saturday was reserved for shopping and sight-seeing. While I got the shopping done, the sight-seeing was a challenge, considering how dark it got at 4 PM. While I did manage to pack in a nice walk around the Mill River Park and the Downtown area, I had to retire early since I had an early morning plan on Sunday. My Saturday's brunch was at Enzo's Italian Fine Foods, a lovely little restaurant on Summer Street, and very close to my hotel. I enjoyed a delicious grilled panini – breaded chicken cutlet with Swiss cheese, bacon, tomato and honey mustard – and a small serving of hot chocolate, all for $10.58 (excluding the tip).
Value: $$$$$
Chez Vous Bistro
Bedford Street has a ton of great places to grab a bite to eat, for all wallet sizes. On a night during my second week at Stamford, I snaked my way into Chez Vous Bistro, a then newly-opened contemporary French restaurant at the corner of Bedford Street (also, this one is very close to Tigin!).
There weren't too many guests that night, so I got to choose a table that overlooks the street. The menu featured really tempting dishes that made me want to order almost everything. But I know that I have eyes bigger than my stomach, so I resisted the urge to go overboard, and treated myself to a glass of Pinot Noir for starters. For the main course, I opted for the Crispy Duck Confit, which comes with apple and bacon-braised cabbage, and a cider glaze.
Value: $$$$$
Capriccio Cafe
If you cross the road from Chez Vous Bistro, you get Capriccio Cafe! While this casual-dining restaurant serving Italian cuisine has a lovely sidewalk seating area, dinners in January are obviously enjoyed indoors. I treated my self to the divine-tasting Farfalle Salmone – bow-tie pasta and fresh, smoked salmon in a champagne chive cream sauce – recommended by the host. It made for a super-filling dinner, so the second course-and-dessert idea went out the window.
Value: $$$$$
Kotobuki
I took a different road one night, and walked into this lovely, nonchalant-on-the-outside Japanese restaurant called Kotobuki Japanese Cuisine. I did not realize how much I was craving some good sushi till I entered this place. I wasted no time, and instead of making my way to the Sushi bar, I took a table next to the wall, got me some cold draft Sake to begin.
By the time I had emptied the bottle (in several servings), my food had arrived – Smoked Salmon Sushi, Shrimp Sushi, and my eternal favourite, California Maki.
I ended my dinner for the night with Mochi Japanese Ice-cream in Strawberry and Sesame. This beauty of a dessert has an outer 'shell' of Japanese mochi (pounded sticky rice) and an ice-cream filling. While the sesame one was interesting albeit a bit bland, the strawberry blew me away!
Value: $$$$$
Bartaco Stamford
Miss M and I went out for a girls' only dinner to the Downtown area, on a rainy evening. We wanted a drink, and a light bite. We were torn between Bartaco and Barcelona, which are next to each other. A couple of ins-and-outs later, we settled on Bartaco.
Such vibrancy and energy at Bartaco! I'm sure the place is packed in the summer, given the almost beachy ambiance. I bumped into the manager of Bartaco (literally), and the nice guy that he is, gave me a Sashito (watermelon-based cocktail) on the house!
We ordered a small serving of Guacamole + Chips for $5, and four tacos for $12. Our total bill, including drinks and tip, amounted to around $60.
Value: $$$$$
Colony Grill
For my last lunch in Stamford, my team and I drove to a casual restaurant that is legendary for its thin-crust pizzas with a signature hot oil – Colony Grill.
We made ourselves comfortable on the large sofa-seating, and got down to business – beers and pizza. I ordered their one-size (12-inches), super thin-crust pizza with hot oil, bacon, and black olives, and a pint of Guinness to wash it down – this is winter comfort-food at its finest!
Value: $$$$$
The good food more or less made up for the gloomy weather. I will cover my week at New York City in a later post. Right now, I'm going to enjoy the almost-pleasant Bangalore summer.
*Apologies for the poor photography – it was way too cold to use my fingers nimbly, and in most restaurants, it was dark inside. Also, I used my phone to take pictures. Have mercy.
Food is the most primitive form of comfort.
– Sheilah Graham