Taking a break from the monotony of daily routine is always a good idea. Change is a necessity; else we will find ourselves stuck in the humdrumness of every day. Travelling is a wonderful way to ensure that such change is always a part of our lives. But what if three out of four from a group are always working, and you have a pet cat at home that cannot be left alone for a prolonged period of time? You still take that vacation, but to a place closer to home.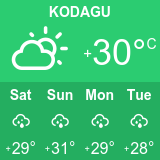 We took a weekend trip to Coorg (Kodagu), in Karnataka, in June 2017 – monsoon is one of the best seasons to visit the district, since it is at the peak of its lushness and life. We believed it was the ideal destination for a family of four who had a common agenda – to relax and unwind, preferably away from cityscapes. Also, what better way to escape the sickly heat of Bangalore summer/monsoon than to spend a few days in cool and green Coorg!
We spent two blissful days at Pegvey Homestay, an estate-cum-homestay run by warm and hospitable hosts. In true Coorgi fashion, they welcomed us with cups of delicious coffee, regaled us with tales of Kodagu's rich culture and local deities, elucidated the differences between Arabica and Robusta, and even introduced us to their resident dogs!
Our stay was beyond comfortable – the rooms were clean and spacious, with a gorgeous view of the estate. The home-cooked food (breakfast, lunch, and dinner) was indescribably delicious, brimming with authentic Coorgi flavours and stories of recipes passed down through generations. If you are planning a trip to Coorg, I highly recommend staying at Pegvey Homestay.
Our accommodating host, Mr. Poovaiah, took us on a drive to see the Kaveri rivulet that provides irrigation to a major part of the estate. The drive was less-than-pleasurable (mostly for our host) since the mud road had gotten quite un-maneuverable due to the continuous rain.
We were also given a tour of the host's second estate. Unfortunately, there was an elephant alert, so caution dictated that we cut the visit short.
On day two, we made our way to the dramatic Chelavara Falls – a stunningly beautiful natural waterfall near the Cheyyandane village on the Virajpet-Talakaveri Road. The spot is approximately 43 kilometers (27 miles) from Madikeri, and 23 kilometers (14 miles) from Virajpet, followed by a ten-minute downward walk through a jagged and slippery pathway.
Formed by a small tributary of the Cauvery River, the waterfall presents a 150-foot drop, and continues into a pool that has a depth of more than 50 feet.
The waterfall is also known as Embepare, meaning tortoise in Kodava language. The name is derived from the tortoise-shaped rock over which the falls cascade.
Do you want to touch the sky and stomp on the earth?
Mr. Poovaiah asked us this question, and when we unanimously said 'yes', he led us on a short hike up a mist-engulfed hill, some two kilometers from the waterfall. Through the low visibility, we could spot greenery flourishing on either side, with the mist condensing on our faces, forming little droplets against our skin.
With the wind whipping against our faces, we climbed atop the Chomakund Hill, which was covered with a thick layer of fog that seemed so solid you'd think you could take off a piece of it as a souvenir! After our mini-trek, we drove back to the homestay, packed our luggage, and made our way home with minds full of memories, and souls full of peace.
My two cents – Coorg is a wondrous escapade for all – families, groups, and solo travelers. It is a paradise for trekkers and adventure-seekers, and a haven for those seeking some Zen. With its lush greenery, mist-shrouded hills, and a cool clime, it is no wonder that Coorg is called The Scotland of India!
Trip Details
Duration of the trip: Two days, one night
Mode of transport: Car
Stay at: Pegvey Homestay | Contact: M.C. Poovaiah/Dhiraj – +91 9945516206
Budget for the trip for a family of four – INR 16,000+